In factro you receive notifications via the dynamic newsfeed and the alarm bell. This way you will be informed about all important events and news in your tasks and projects. The news are available for 14 days and are then automatically hidden as "outdated". With the help of the subscribe function you can keep track of the tasks you are not responsible for.
Comment
If you want to give an intermediate status to a task and thus primarily inform or fix documents, you can do this with a simple comment in the comment field of the corresponding tasks. A notification about it is displayed in the newsfeed of the executor, officer and subscriber of the task.
Furthermore you can directly address and inform team members in the cloud.
Tagging via @mentions
For this, use the @mentions function to communicate directly and effectively with your team members. Enter the @ sign in comments or the description field of tasks, projects or packages and choose a name from the list. Alternatively, you can start typing the name and confirm the choice with enter.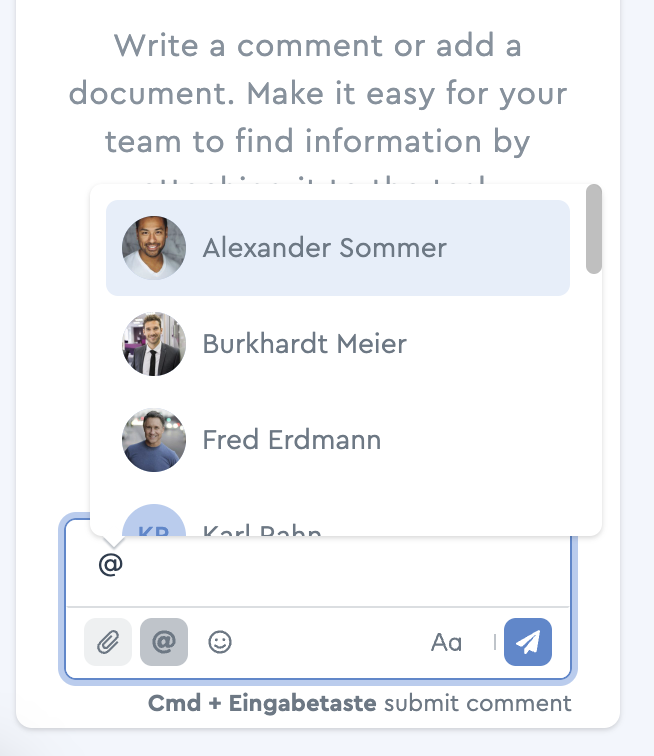 In this way, you can involve team members, who are not assigned as executor to a task. The tagged person will be informed about it according to their notification settings via e-mail, push notification or in-app in real time via alarm bell. Besides, @mentions are the only notifications that are triggered in planned projects.
Please note: To trigger an @mention, the @ sign has to be preceded by a blank space. The username follows without a blank space. In addition, the user you want to tag must have at least reading rights for the corresponding element.
Hat Dir dieser Artikel gefallen? Gerne kannst Du den Beitrag hier bewerten:
[Anzahl:

0

Durchschnitt:

0

]