Comparing the 6 Best Project Management Tools
It is hard to keep track of the huge market of project management tools. Especially the sheer amount of cloud based solutions makes it tough for users to decide. In our project management software overview, we will take a look at the most popular tools and answer the decisive questions:
What is the best tool for one's own company? Which project management software enables successful collaboration as a team – and is fully embraced by the colleagues? Which tool offers full GDPR conformity?
Requirements for a Project Management Software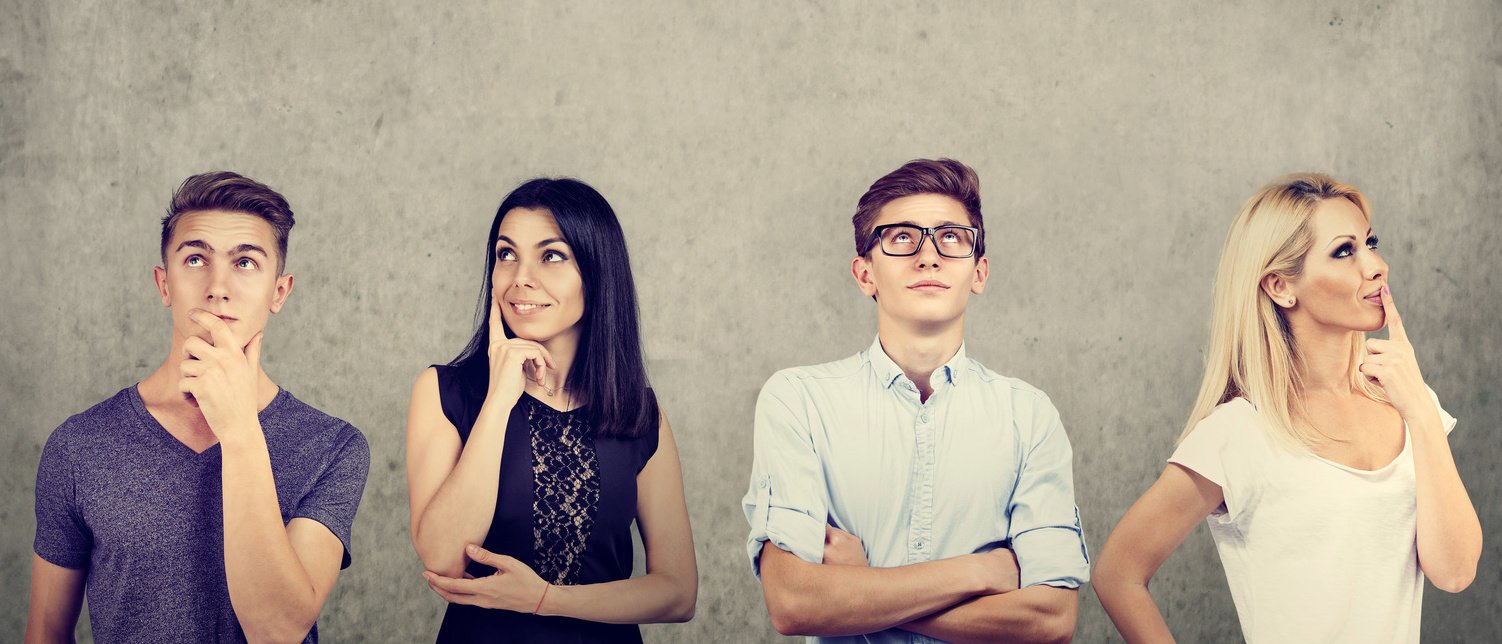 A proper project management software that you can use productively on a daily basis is characterized by the following factors:
Intuitive user interface: An easy to use user interface enables a rapid kick off and saves you time and trouble of reading massive software manuals.
Security and privacy: The security of personal data and company know how is an indispensable criterion.
Customer service: A personal, to the point customer service assists you and your team with any questions about the use of the software and relieves the in-house support team.
Practice-oriented: A tool that is inherently practice-oriented supports you ideally with your daily business und offers exactly the functions that are really a must for agile teams – by professionals, for professionals.
Overview: Comparing PM software
The following comparison will look at 6 of the most popular project management tools, namely Asana, Trello, Wrike, Smartsheet, MS Project and factro and offer a useful first look:
1. factro
Super accessible thanks to the easy to use interface
The user-friendliness is evident in the intuitive handling of the various functions. Even newbies who have not used PM tools before will easily understand the structures and functions of factro. The team can directly start working together, without any trouble or lavish initial training.
The aspiration to make the use as intuitive as possible is immediately experienced when using the software. The drag & drop functionality makes using factro easy and feather-light. Functions are understandable and every customer can choose the the preferred visualization: Work Breakdown Structure (WBS), Gantt Chart, Kanban Board, table.
API available
In addition to a CSV export and Outlook synchronisation, factro offers an open REST-API with webhooks. Therefore, connecting the tool to your company's software landscape is easy to realise, and the data between different solutions can be exchanged.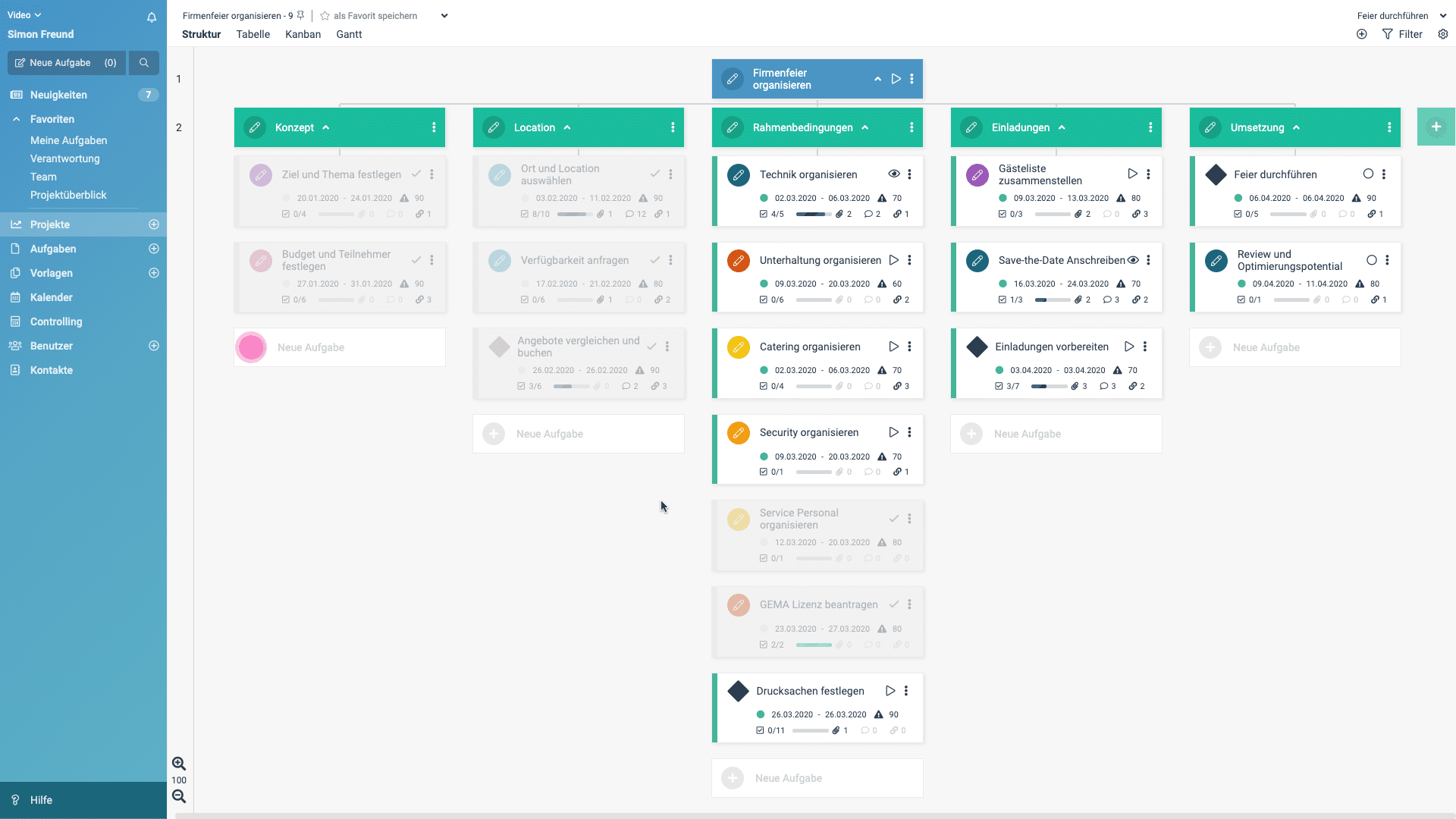 Moreover, with the upcoming workload feature you can keep track of your team's capacity. Manage tasks and projects efficiently, without demanding too little or overwhelming your team.
German and EU privacy standards
factro is a cloud based project and task management tool with servers located in Germany (Frankfurt). This means that factro is completely conforming to the EU GDPR as well as Germany's strict federal privacy law (BDSG-neu). The security is upheld by a certified datacenter and high encryption standards for data transfer. You can find all information about factro and security right here (German).
Personal point of contact
Another distinctive advantage of factro is the personal customer support, provided by real contacts on site. You can reach the service via phone, e-mail or chat directly from your cloud.
A truly practice-orientated tool
If you opt for factro, you opt for more than 25 years of experience and competence in business consulting. Thanks to the strong partnership with the consultants of SCHUCHERT, the tool is uniquely practice-orientated. It is specifically optimized for the demands and needs of modern leadership and teamwork.
Moreover, factro offers trainings and professional consulting for topics like project management, both on site and remotely. This clearly distinguishes factro from the other PM solutions.
2. Asana
Software from the cloud
Like Trello, Wrike, Smartsheet and factro, Asana is a cloud based project management tool, distributed as Software as a Service (SaaS). This means that users pay for using the software, including maintenance, updates and back ups. No installation is required, the software is accessed via browser.
Easy to Use
When starting Asana, you immediately notice the ease of use.  Some users my dislike the color- and playful interface, but that is a matter of taste. The functions are kept slim and light, focussing on the most important ones. Therefore, Asana works great on smartphones, too. However, some functions lack depth as a consequence. For example, there are less visualizations than in other apps.
No free personal support
Asana offers a customer support. However, it is only part of the fee-based plans so the user has to decide whether the numerous tips in the app, tutorial videos and the large community are enough support.
How important is a personal point of contact to you, available all the way from starting a test to individual use cases? Should your and your team's questions already be precisely answered in the free plan? Even though the user interface is accessible without expertise – sometimes, a customer support can assist with very specific, personal questions.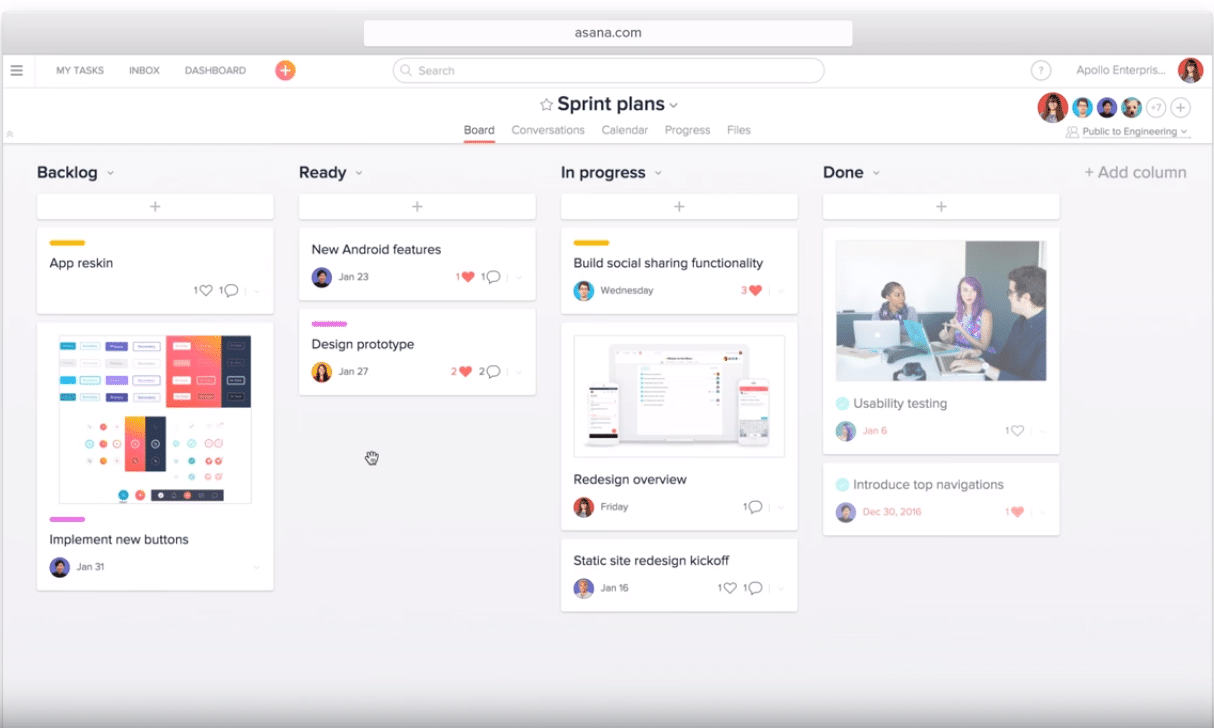 Servers outside of Europe
The servers of the project management software Asana are located in the US. Therefore, your personal data is not stored in the European Union. Storing data on servers outside the EU is not an option for some companies and institutions.
3. Trello
Kanban Board as the only visualization
Trello's clear and easy interface is very user-friendly. The Kanban Board can be set up as a workflow or a notepad. The simplicity also derives from a lack of different project management visualizations – project and workflows can only be structured as a board.
Useful visualizations like Gantt Charts or a Work Breakdown Structure are not available. Who prefers visualizing projects to make complex projects accessible may need other ways than just a Kanban Board.
No EU servers
Like Asana, Trello is hosted on servers in the US, so EU companies have to take into account that their sensitive data is not stored in the European Union.
Online help center, but no personal service
Trello does not offer a personal customer servicer. Users who prefer directly contacting the provider for questions or problems will not be able to do so. However, there are some alternatives like YouTube tutorials and texts on the website. These are no replacement for an actual customer service, but answer different questions nonetheless.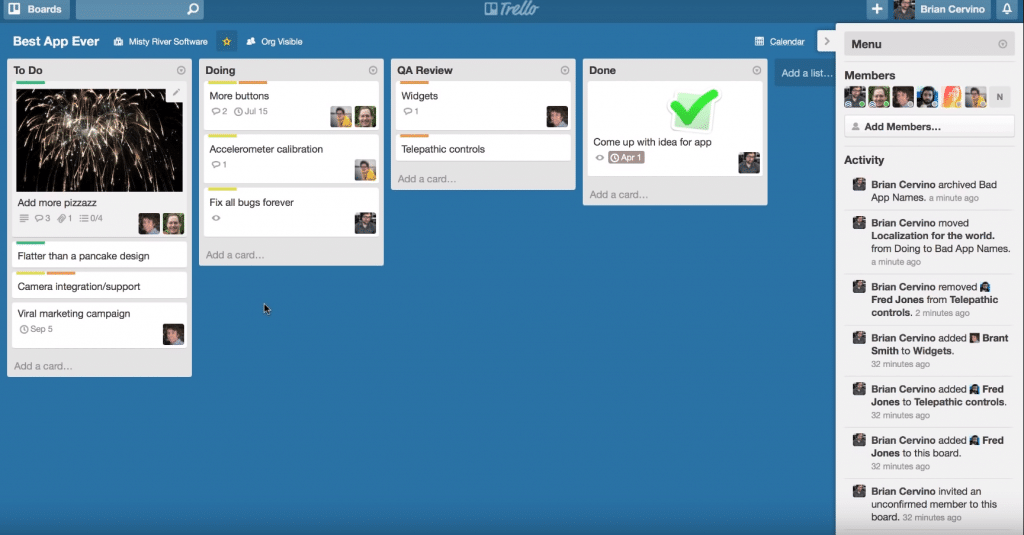 Less suited for complex projects
Who wants to professionally digitize the whole operational business with Trello will soon be stretched to one's limits. The tool's simplicity leads to the inability of displaying complex projects and processes. However, Trello is a great choice for completely agile workflows.
For more traditional environments, hybrid project management, with features like Gantt Charts, multi project visualizations or controlling, is the best solution.
4. Wrike
Massive feature set
The PM software Wrike impresses with an extensive feature set and a variety of integrations (e.g. Google Drive, Box or iCal). Especially the Marketers plan stands out with its sophisticated workflows, including briefing, review and approval functionality.
Demands a lot of onboarding
However, the numerous features come at a price: At first glance, Wrike is designed cleanly. But diving into the features reveals that users need a comprehensive onboarding, and maybe even trainings.
GDPR conformity
Even though Wrike is based in California, it hosts the European version of its software in Amsterdam. The server location within the EU ensures GDPR conformity, making Wrike an option for a lot of companies and institutions with particular demands in privacy questions.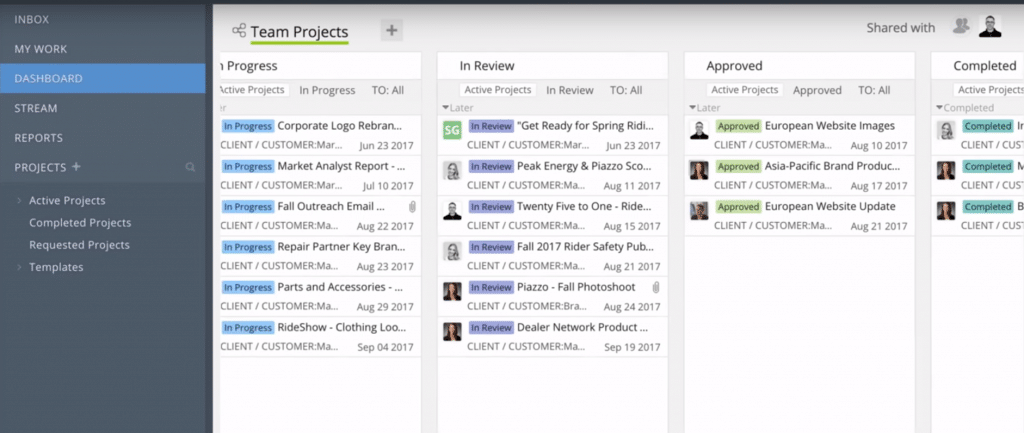 Limited contact options
You can reach the customer support, but only via ticket or leaving your phone number and asking for a callback. Additionally, videos and written tutorials can help, but demand more time than directly reaching out for a service employee.
5. Smartsheet
Remarkably flexible
Smartsheet is a project management tool that emphasizes spreadsheets. However, there are other ways of structuring your projects as well, e.g. Gantt Charts or Kanban Boards. Smartsheet users enjoy a high degree of flexibility in structuring projects to their taste.
Different templates available
Instead of setting up projects by hand, users can also visit the so-called Solutions Center for templates. Similar to, e.g., factro or Trello, the templates cover specifics topics, reducing the planning effort for certain projects and tasks.
Servers in the US
Smartsheet focusses on security. According to the developer, the software is hosted in Equinix and AWS datacenters that are ISO 27001 certified and AICPA SOC 1 tested. However, all servers are currently located in the United States, complicating usage in a lot of EU companies and institutions.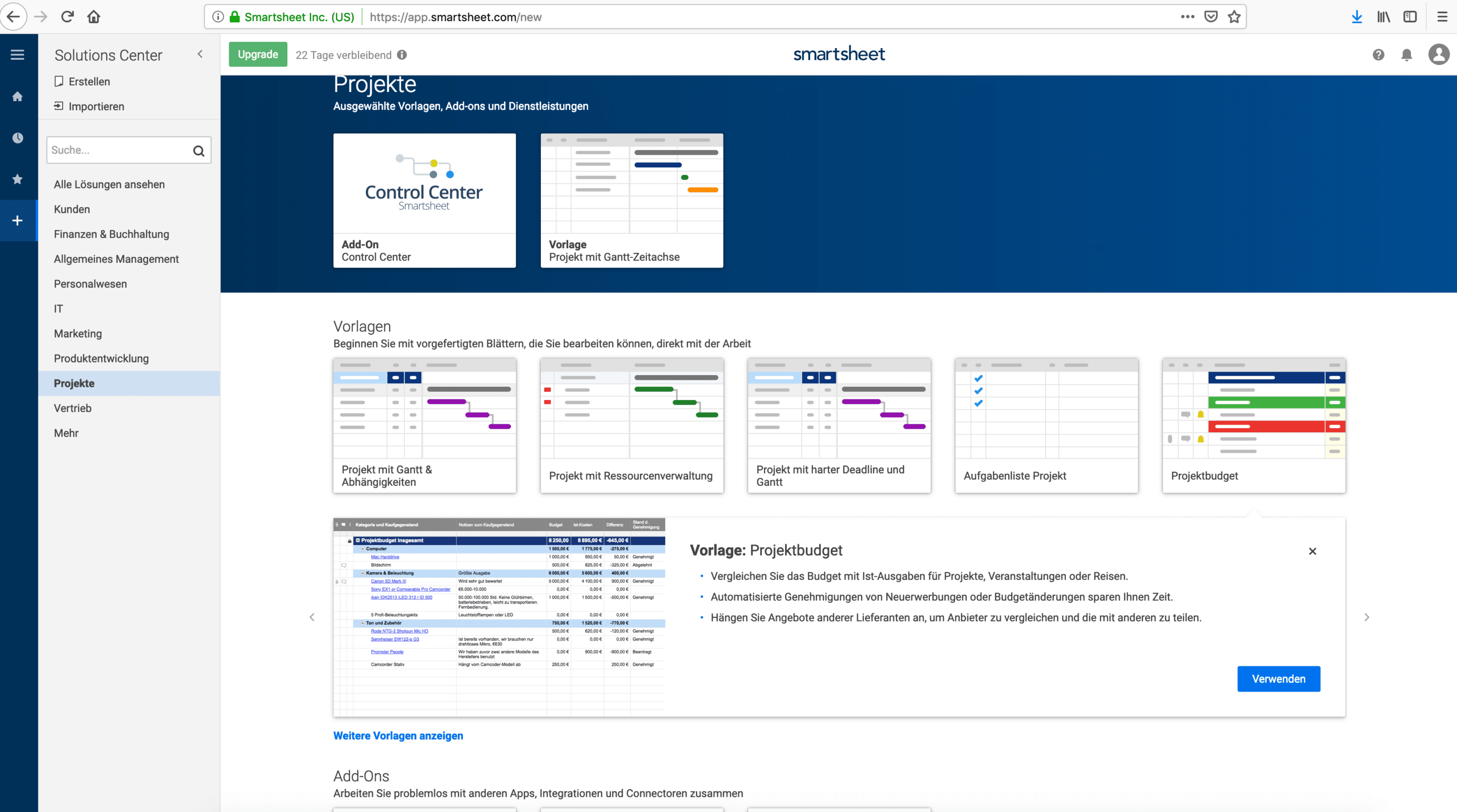 Support
Because of the variety of options and features, Smartsheet is not always straight-forward. After the initial start up, users are offered several useful tutorials. Additionally, templates are partially explained as well. Users of the individual and business plans can contact the customer support only via e-mail. Phone support is available as well, but only in the top tier plans Enterprise and Premier.
6. MS Project
On-premise and cloud solution available
After a long time as an on-premise solution, MS Project is available as a cloud version as well. Users can decide if they want full control in exchange for self hosting and maintenance, or if they want to use the software as a service, automatically receiving new patches and updates.
Security & privacy – depending on the version
Opting for either the on-premise or the cloud version also sets the agenda for security and privacy efforts. The on-premise version is fully controlled and set up by the user or the IT department, whereas the the cloud version is based on the security of Microsoft's servers.
Microsoft hosts its cloud services across the world, so the server location depends on your region. In the European Union, most Microsoft services, including MS Project, are hosted in the Netherlands or Ireland.
Demands expertise
MS Project is a very comprehensive tool. As a consequence, working with MS Project demands a lot of expertise of both software and project management. Newbies need to study it intensively before they can start using the tool productively. Immediate kick off? Delayed. Collaboration? Hardly comfortable. The focus of MS Project is project planning, not realization.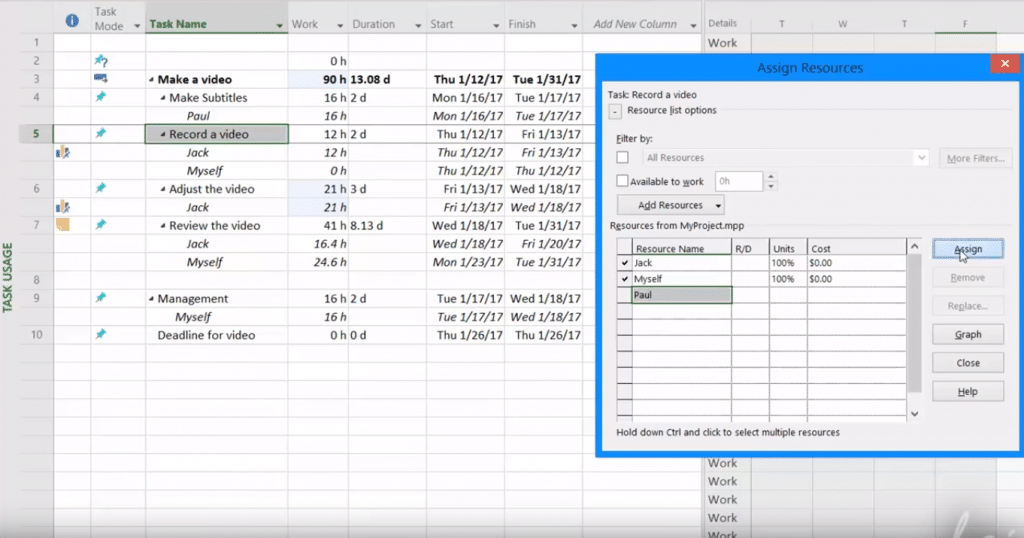 Working together easily as a team is tough with Project. The software is optimized for planning, controlling and resource management at project manager level. Therefore, MS Project is not necessarily a software that will push teamwork.
No personal customer support
Customer service is mostly limited to the online help center. Users can click through and filter the contents to find answers to their questions. Alternatively, users could go to the Project forum and ask the community. If you feel to have reached a dead end, those solutions mean additional effort with no guarantee for finding a helpful answer.
Verdict: factro is a convincing all-round solution for demanding team players
For successful project management, various companies offer useful software. The multitude of tools makes it hard for the interested user to quickly choose a specific solution. The criteria for this project management software comparison were especially: Highest standards for security and privacy, customer support, usability and practical relevance.
First and foremost, the user has to decide if he prefers an on-premise or a cloud solution. Cloud software has less maintenance effort and constant, automatic updates. Another advantage of Software as a Service (SaaS) is the easy and location-independent access, making collaboration transboundary and modern.
Comparing 6 of the most popular project management tools shows: The range of tools differently meets the basic requirements of this comparison. Most of the boxes are checked by factro, the software for task and project management.
If you value an intuitive solution with high security standards, GDPR conformity and a personal, free customer support as well as practical relevance, you should take a closer look at factro. A free and noncommittal registration allows an insight into the Basic Cloud of factro. Additionally, a 14-day test of the higher-value plans Team, Business and Professional Cloud is possible (no credit card required).
Convince yourself! Try the factro Basic Cloud and register for free!
[Anzahl: 1 Durchschnitt: 5]